›
Camping activities

›

Beaches in Camargue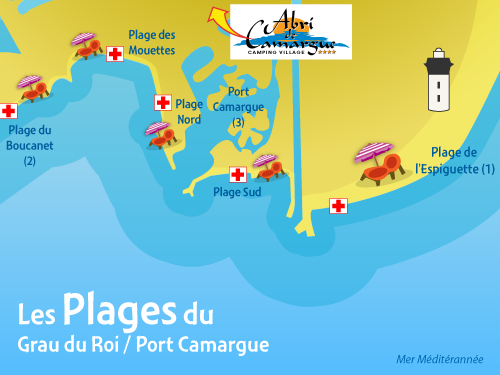 The beaches near the campsite
Coming at a campsite in Le Grau du Roi/Port Camargue is above all for sunny and water holidays. On the programme: beaches for every taste and various activities around the sea.
Blue flag

The Grau du Roi (and Port Camargue) resort holds the Blue Flag since many years.
This label, which has a strong touristic connotation, is the sign of an exemplary environmental quality.
For further information, you can visit the website of the Blue Flag. (For 2020)
The Espiguette beach
At about 3 km from the campsite, this is the biggest French beach of the Mediterranean area.
Starting eastern of Port Camargue, it gets to the Espiguette lighthouse until the naturist beach. It stretches over 18 km of fine sand in a preserved natural setting typical of Camargue. This protected landscape is completely wild and without any houses, stores, roads…
With its 18-km long and its authentic nature, this is the ideal place for long and very pleasant horse rides. At the far eastern of the beach, the Espiguette point forms the edge of a huge sandbank totally isolated from terra firma, buildings and roads. However it includes few settlements for the holidaymakers' well-being (pedalos, sunbathing chairs, drinks, ice creams…)
Attention the Barronets parking for vehicles is not free and guarded from Easter to the end of September. We recommend you during the high season to use the bus from the Campsite to the Espiguette beach. Offer: in low season sale of reduced tickets for the parking to the campsite's clients.
The Boucanet beach
The beach is easier to reach from the city centre and gets to La Grande Motte. Located at the east of Le Grau du Roi, the landscape is there more urban. Le Boucanet offers more conventional services with its equipped beaches, restaurants, waterfront brasseries, volley games, beach games and stores.
The marina
This is neither more nor less the biggest European harbour. This sea city is ideally located between the fishing port and the preserved site of Espiguette. Very famous, we recommend you to go there for a walk at the end of the afternoon or in the morning in summer; the marina offers you some long walks along the quays. You will see some magnificent sailing ships owned by leisure sailors or amateurs of sailboat racings.
Equipment: 4800 landing stages of which 2240 marinas and 2560 public mooring rings and 200 places for short stay.
Depth before harbour 4m, within 3m.
Port authority opened everyday from 8 am to 8 pm in summer.
Good to know
In the Occitania language a "Grau" is a natural gap created through the coastal line joining on one side the sea and on the other side the ponds. It seems it has been formed during the 13th century and links the Mediterranean Sea and the Grau du Roi pond.